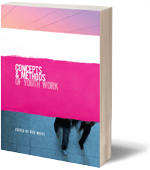 Concepts and methods of youth work
Edited by Rob White
ACYS Publishing
October 2009
ISBN 978 1 875236 61 9, 472pp
Available now
$69.95 + postage (discount for 2 or more copies)
Order form – for orders in Australia
Note: for orders outside Australia, please
contact ACYS
for information about pricing and postage.  
Concepts and methods of youth work
Concepts and methods of youth work, looks at:
youth work as a career, including career options, pioneering and settling activities, defining the nature of youth work
youth work as a profession, including professionalism and ethics, multiskilling, future prospects for youth work
models of youth work intervention, including personal, structural, power, feminism, nonviolence, values
youth work general skills, including small group processes, music programs, mentoring, advocacy, activation, conflict resolution
youth working and workplaces, large city work, new directions for youth work, soft cop syndrome, stress.
About the editor  
Rob White is Professor of Sociology and Director of the Criminology Research Unit at the University of Tasmania's School of Sociology and Social Work. Professor White is an internationally respected scholar in the fields of youth studies, sociology and criminology, and environmental and ecological justice. Among his books are: Youth & society; Youth subcultures; No space of their own; Juvenile justice; Crime & criminology; Crime & social control; Crime & society; Controversies in environmental sociology;Crime prevention; and Crimes against nature. He has extensive practical experience in working with youth and community workers, police services, teachers, drug and alcohol workers, government policymakers and academic researchers.