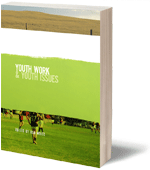 Available now
$69.95 + postage (discount for 2 or more copies)
Order form – for orders in Australia
Note: for orders outside Australia, please contact ACYS for information about pricing and postage. 
Youth work and youth issues
Doing youth work in Australia
Edited by Rob White
ACYS Publishing
June 2010
ISBN 9781875236626, 496pp
Youth work & youth issues
Doing youth work in Australia
Edited by Rob White
The Doing youth work in Australia series offers a comprehensive and systematic discussion of the challenges and realities that youth workers face. In these three volumes, youth workers and other professionals provide profound insights about their profession and about young people's lives. It sets an agenda for debates about the profession of youth work and for future research and is a must for anyone interested in understanding the field of youth studies today.
Youth Studies Australia is still the best thing around I think, in terms of accessibility, rigour and the balance between research and practice.
Volume two, Youth work and youth issues, looks at:
youth participation, including online and offline participation, youth partnerships and the participation of marginalised young people
youth researching youth, including youth-focused research, research ethics and peer support
health and wellbeing, including adolescent grief, young deaf people, suicide prevention, primary health care
mental health, including access and customer service, services for homeless young people, and services for young people with complex needs
sex and sexuality, including sexuality education, sexual health, masculinity, HIV/AIDS, sexual coercion, same sex attracted young people
homelessness and accommodation, including homelessness and employment and training, services to homeless young people
alcohol and drugs, including education, detox centres, harm reduction, community-based approaches.
About the editor  
Rob White is Professor of Sociology and Director of the Criminology Research Unit at the University of Tasmania's School of Sociology and Social Work. Professor White is an internationally respected scholar in the fields of youth studies, sociology and criminology, and environmental and ecological justice. Among his books are: Youth & society; Youth subcultures; No space of their own; Juvenile justice; Crime & criminology; Crime & social control; Crime & society; Controversies in environmental sociology;Crime prevention; and Crimes against nature. He has extensive practical experience in working with youth and community workers, police services, teachers, drug and alcohol workers, government policymakers and academic researchers.