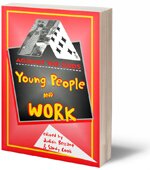 Against the odds:
Young people and work
Edited by Judith Bessant and Sandy Cook
ACYS Publishing
1998
ISBN 1875236430
278pp
Available now $24.95 $15.00 + postage
Note: for orders outside Australia, please contact ACYS for information about pricing and postage. 
Will young Australians adapt to the uncertainty of the post-industrial labour market and find their place in the new work order? Or does the trend toward underemployment and precarious part-time or casual employment stack the labour market against them? Leading Australian researchers and commentators explore these and other questions.
Against the odds: Young people and work is a vital contribution to current debate and is the first book to bring together such a wide range of perspectives on the subject. The book is essential reading for anyone concerned with the issues surrounding young people and work, including youth and community workers, teachers, academics, policymakers, politicians and young people themselves.
The book investigates:
the experiences of young Australians in the labour market over the past 100 years and how this is reflected in the contemporary scene
the recent trends that characterise the experience of young people as they move from school to training, further education or work in a rapidly changing technological age
the workplace experiences of specific groups of young people, including those who are disabled, gay or from non-English-speaking backgrounds
government policies on youth employment and training: Are they helping or hindering the prospects of young people in the labour market?
About the editors  
Judith Bessant teaches at the Australian Catholic University and is the author of articles on social policy, education and youth issues. She has also authored and edited a number of books, including (coeditor) Youth, Crime and the Media (NCYS, 1997) and Youth Studies: An Australian Perspective (Longmans, 1998).
Sandy Cook lectures in the School of Law and Legal Studies at La Trobe University. Sandy has ten years experience as a teacher in prison and youth training centres. Her research and teaching interests include juvenile justice, women's imprisonment, disability issues and education.