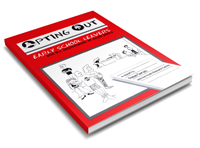 Opting out
Early school leavers and the degeneration of youth policy
A report by Peter Dwyer and the Youth Research Centre
NCYS Publishing
1996
ISBN 1875236341
81pp
Available now $10.00 $5.00 + postage
Note: for orders outside Australia, please contact ACYS for information about pricing and postage. 
Despite the dramatic improvement in apparent retention rates in Australia, early school leavers remain a problem for policymakers at both the state and federal levels. Available research and commissioned reports on youth homelessness, truancy, alienation in the middle years of schooling and youth unemployment, have highlighted the seriousness of the situation confronting those young Australians who, whatever the reason, choose or feel compelled to leave without completing school after -– or even before -- the school leaving age.
… [The report] is a deliberate effort to pull the threads together -- to document in a single source and as thoroughly as possible what we know about the nature of the problem, about its extent, causes and outcomes, about the many programs which demonstrate that effective responses are possible, and also about the policy implications both of the realities of early school leaving and of those effective responses.