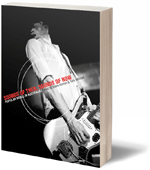 Sounds of then, sounds of now:
Popular music in Australia
Edited by Shane Homan and Tony Mitchell
ACYS Publishing
June 2008
ISBN 978 1 875236 60 2
295pp
Available now
$39.95 $25.00 + postage
Note: for orders outside Australia, please contact ACYS for information about pricing and postage. 
Homan and Mitchell have put together a cast of writers who are passionate about their subjects, thoughtful and theoretically interesting, and immensely knowledgeable, not only about the histories and personalities of the various kinds of music they write about, but also about the music itself ... Sounds of then, sounds of now' is perhaps also one of the very few 300-page edited academic books I have ever read with pleasure in one sitting. It deserves to be read widely by anyone with an interest in Australian music and in an inclusive view of Australian popular culture.
This book will bring teachers up to date on the latest academic approaches to popular music in Australia. This book has a number of uses as a resource for both students and teachers". Its "information is right up to date and this makes it the best resource I have found for examining the future of music as a popular culture.
... a superb analysis of the Australian music scene ... These are thoughtful and intelligent academic papers laden with footnotes and even with questions at the end of each chapter.
About the editors  
Shane Homan is a Senior Lecturer in the School of English, Communications and Performance Studies at Monash University. A rock drummer, he is the author of The mayor's a square: Live music and law and order in Sydney (Local Consumption Publications, 2003 ) and editor of Access all eras: Tribute bands and global pop culture (Open University PRess, 2006). He has also engaged in Australian music industry and policy work, including the regulation of music venues and night-time economies.
Tony Mitchell is a Senior Lecturer in cultural studies at the University of Technology, Sydney. He is the author of Popular music and local identity: Rock, pop and rap in Europe and Oceania (University of Leicester Press, 1996), editor of Global noise: Rap and hip hop outside the USA (Wesleyan University PRess, 2001) and numerous articles and book chapters on global hip hop, film and popular music in Australia, New Zealand, Italy, Singapore, China and Hong Kong.