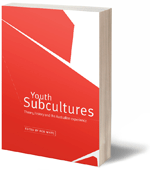 Youth subcultures
Theory, history and the Australian experience
Edited by Rob White
ACYS Publishing
2006
ISBN 1875236589
152pp
Available now $29.95 $20.00 + postage
Note: for orders outside Australia, please contact ACYS for information about pricing and postage. 
In its 4th reprint, this is the classic text on Australian youth subcultures and an essential guide to the lifestyle and cultural concerns of young people in Australia.
Youth subcultures is an area of perennial interest, debate and contention in Australian youth studies, and the study of youth cultures and subcultures continues to be highly relevant to understanding where each generation of young people is coming from and, perhaps, where it is going. In his preface, Rob White writes:
This book stands as testimony to the persistence of interest in youth subcultures, and of the complexities, ambiguities and continuities of street culture and youth group formation over time. Youth subcultures, in varying forms, do exist in Australia today.
They share many of the attributes of similar phenomena in the past. Yet they incorporate in dynamic fashion the latest developments in technology, the influence of globalised communications, ever fluid ideas about identity and the self, and widely varying commitment, consciousness and purposes.
The book provides an overview and survey of Australian theory, research, history and experience in relation to youth subcultures and youth cultural activity. It includes case studies and historical sketches of a wide range of experiences of young people throughout Australia, from bodgies and widgies in the 1950s through to the goths and bogans of the 1990s. It also examines the factors underlying the formation of diverse youth subcultures, and reviews the theoretical debates on the interpretation of the cultural experiences of young people.
Youth Subcultures will be of interest to teachers, academics, youth and community workers, tertiary students, parents and young people themselves. Originally published in 1993 by the National Clearinghouse for Youth Studies, this title was reprinted in 1998, 2000, 2002 and 2006.
About the editor  
Rob White is Chair of Sociology and Director of the Criminology Research Unit at the University of Tasmania's School of Sociology and Social Work. Professor White is an internationally respected scholar in the fields of youth studies, sociology and criminology. Among his books are: Youth & society; Youth subcultures; No space of their own; Juvenile justice; Crime & criminology; Crime & social control; Crime & society; Controversies in environmental sociology;Crime prevention; and Crimes against nature. He has extensive practical experience in working with youth and community workers, police services, teachers, drug and alcohol workers, government policymakers and academic researchers. He is also the Director of the Australian Clearinghouse for Youth Studies.