The health and wellbeing of young workers – and young men in particular – is an area often neglected in the youth research literature. With this in mind, researchers Dr Tim Corney and Dr Karin du Plessis launched their new book Apprentices – young people in transition, at a professional development conference of the Youth Workers' Association in Melbourne on 14 October 2011.
The book showcases evidence-based findings from research conducted over a number of years with apprentices and young workers in the building and construction industries in Victoria. A range of diverse topics are presented which address the challenges that many young working people encounter as they transition from school to work, including chapters on relational issues, bullying, substance use, gambling, financial management, help-seeking and nutrition. The book is designed as a resource for people interested in, and working with, apprentices and young workers as they journey into employment.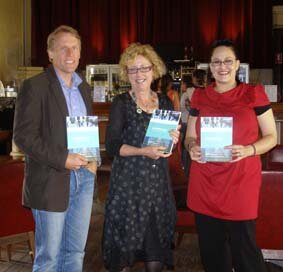 Tim Corney (left) and Karin du Plessis (right) with Robyn Broadbent (middle) who launched the book Apprentices – young people in transition at the Youth Workers' Association Conference in Melbourne.