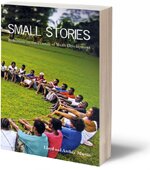 Small stories: Reflections on the practice of youth development
By Lloyd Martin and Anthea Martin
Circle of Courage Publications, Michigan, USA, & Wellington, NZ, 229pp.
ISBN 9781613644225
Available now
$29.95 + postage
Note: for orders outside Australia, please
contact ACYS
for information about pricing and postage.  
Small stories: Reflections on the practice of youth development
A collection of funny and sad stories which spans 30 years of teaching and youth work by Lloyd and Anthea Martin in the community of Cannons Creek, Porirua, New Zealand. Each story is interspersed with reflections that link practice with theory, drawing from fields as diverse as behavioural sciences, theology, and community development. 
Lloyd and Anthea's book is an invitation to actively embrace the opportunities for learning that exist right under our nose, in the 'small' stories that surround us every day.
Howard Sercombe, Professor of Community Education, University of Strathclyde, Scotland
An essential road map to navigating the complex and ever changing world of youth, and direct hands-on engagement with young people. 
Sharon Davis, Teen Parent Services, Te Ora Hou Aotearoa/ New Zealand
Small stories use the power of narrative to convey deep truths hidden beneath troubling statistics and diagnostic labels. 
Professor Rob White, Director, Australian Clearinghouse for Youth Studies
Table of contents
Part I – the principles of care
Chapter 1: Becoming present
Chapter 2: Stories around connection
Part 2 – the practice of care
Chapter 3: Communities that care – development
Chapter 4: Communities that care – coercion and influence …
Chapter 5: Communities that care – Citizenship
Chapter 6: Organisations that care
Chapter 7: Caring for ourselves
Postscript: A last word about stories
References
Sources and resources