Supporting young Australians for 30 years
On Thursday 4 October, 2011 the 
Vice-Chancellor of the University of Tasmania, Professor Peter Rathjen, 
launched the 30th birthday celebrations of the Australian Clearinghouse for Youth Studies at the University of Tasmania in Hobart, Tasmania.
The Minister for School Education, Early Childhood and Youth, Peter Garrett, sent his congratulations via a recorded DVD message, which was played at the event.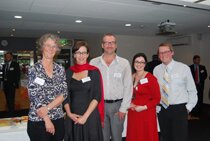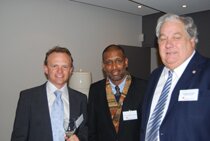 As the nation's only youth-specific clearinghouse, ACYS provides integral services to the youth sector by collecting and disseminating cutting-edge research and important information. 
'Three decades as Australia's youth-specific clearinghouse is a remarkable achievement. Congratulations on reaching that milestone and I want to commend everyone who's been involved over that time for the hard work and dedication that's been put in,' Minister Peter Garrett said. 
'Through building the evidence base to support policy development and practice, you've made a positive difference for young Australians.'
The afternoon-tea event celebrated ACYS's many successes including the continuous production of its academic journal, Youth Studies Australia; the development of its electronic newsletter, Youth Field Xpress; the expansion of its information and resources website, acys.info; and the publication of academic and reference texts through the imprint ACYS Publishing.
Over the past 30 years, ACYS has developed and maintained strong national and international networks within the youth sector, which has strengthened the research and information base it is able to offer to policymakers, researchers, youth workers and all people who work with young people. 

As well as the afternoon-tea event, the celebration includes an exhibition in the UTAS Morris Miller Library, which showcases ACYS's history and achievements. The ACYS celebrating 30 years exhibition will run until 23 October. 

Media contact:

Rebecca Livermore, ACYS Marketing and Communications Officer
Email: 
[email protected]
Phone: (03) 6226 2591
Mobile: 0407 835 867
Web: acys.info