Benson Saulo: First Indigenous Australian Youth Representative to the UN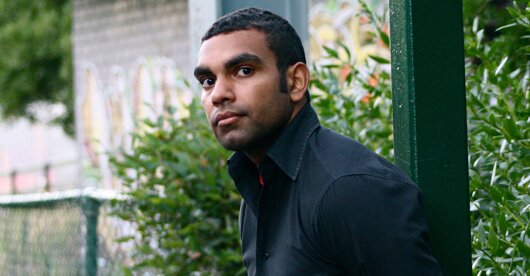 On Saturday 20 April, Benson Saulo received a phone call that changed his life. After a month and a half of anxiously waiting the result, he was congratulated as the 2011 Youth Representative to the United Nations. ACYS caught up with Benson to learn more about him and what he'll be doing in the coming months.
How did you first become involved with youth justice issues?
During high school I was involved in the Student Representative Council at the school and state level, as well as being a student mentor to Indigenous and non-Indigenous students. It was from these experiences that I became more aware of issues relating to young people and social justice.
What encouraged you to apply for the position?
One morning at work, within one to two hours, I received three emails from different networks which included the application form. I was hesitant to apply but by the third time the form arrived I knew I needed to apply. After six years in the banking sector I was keen to explore other industries and opportunities. I believe the emails came at a point when I was ready to move on to other areas.
What will your position with the United Nations entail?
I will be representing the diverse and optimistic views, opinions and dreams of young people for the future of not only themselves but also our nation. It is a great and humbling opportunity to be entrusted with the hope young people have for a brighter future.
What do you hope to achieve from this appointment?
My thoughts are with the task at hand and the great impact I can have by engaging, sharing and building awareness within Australian society of the key areas I will be focusing on: health, employment, education and Indigenous affairs. I haven't allowed myself to think much beyond the role – I am excited to be the 2011 Youth Representative and I want to focus on running a positive campaign.
What does it mean to you to be the first Indigenous Australian Youth Representative?
It is a great honour and privilege, not only as an Aboriginal Australian but also as a representative of the youth of Australia. I believe it is indicative that young people are passionate about promoting an equal and inclusive society. While I am Indigenous, and proud to be Indigenous, I am a firm believer that, regardless of the colour of your skin and your background, success and role models have a positive flow-on effect on individuals, communities and countries.
What do you believe are the main issues facing Australia's youth?
I recently ran a survey of young people which asked the question 'What are you passionate about?' In the 200 responses, health, education and equality were standout issues across the various demographics. Employment, especially in rural areas, also ranked high and is an area I am passionate about.
What do you believe are the greatest barriers to young people being heard?
I think the greatest barrier is the idea that knowledge can only be possessed by someone who has life or work experience. The realisation in recent years that young people can have a positive impact has been driven by the great work of youth organisations across Australia.
Who or what have been the biggest influences on your life?
My mother and father – they are very supportive and always available to offer advice and be the sounding board to my ideas and thoughts. During my working life I have met some amazing people and great friends who have influenced my life greatly both professionally and personally.
What is the greatest advice you have been given?
Be open to change but don't change just for change's sake, be patient and the change that you are to make will happen without you consciously having to make it. My father said something like this when I turned 22 and called him and confessed I didn't know where I was going in life or what I should be aiming for. I was working for a bank, overall I was happy but I knew I had something more to offer in life.
For more information about Benson Saulo, visit his blog: http://bensonsaulo.wordpress.com