Aaron Tait: Founder of The LEADERS Project and Executive Director of Spark*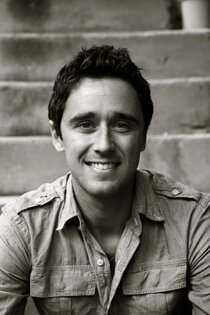 What was your first experience of being a leader?
The first time I had to really lead both myself and others was as an 18-year-old military officer. Immediately after 9/11, I was deployed with a small team of 14 men to the Middle East to enforce UN sanctions on Iraq. As a young leader in such an intense and fast-paced environment, I learnt quickly that to survive I needed to be fully in control of my own actions, and also doing my bit for the team.
Through 'The LEADERS Project' you work with young people to develop their leadership skills. Why do you believe it's important to start leadership training at a young age?
I believe that leaders can be trained, and the work we do is all about helping emerging leaders discover the confidence and the concepts that they need to create change in their unique settings. The earlier you have this feeling of confidence and an understanding of what it takes to lead others, the earlier you can start to be a recipe maker, rather than just a cake baker.
What positive results have you seen as a result of training young leaders?  
There is one key factor which emerges among the most successful young leaders that I have worked alongside. They have made things happen. They have not blamed others, they have not waited for something to happen, they have grabbed reality by the horns and decided to get to work. Whether it is in the slums of East Africa, the highlands of Papua New Guinea, the schools of the Northern Territory or the offices of the world's mega-cities, where people have made things happen, great results have been achieved. Two young teachers in particular – Stu and Megan – from Alekarenge School in the Northern Territory have lead astounding change in their mostly Indigenous community, dramatically increasing student attendance rates, grades and community engagement. And it has happened because they got focused, and got to work.
As well as founding 'The LEADERS Project', you are also a co-founder of Spark*. What does Spark* aim to achieve and how does it work?  
At Spark* we believe that some of the greatest challenges of poverty can be solved, but that they will almost always be solved by local leaders with local solutions to local challenges. We go into some of the poorest places on the planet, identify incredible young change makers and support their local efforts for change.
Where did your inspiration come from to start Spark*?  
My wife and I ran a secondary school for street kids in a slum in Tanzania for a year. We began to see that outside ideas were not really providing relevant answers for the community we were in, and at the same time we started to realise that we had some incredible students at the school. These kids had grown up tough, but they were highly intelligent, charismatic and had a real passion to see change in their country. When they started to be lured away by gangs or the realities of trying to find money to live, we asked ourselves the question, 'what if an organisation existed that identified the best of these local change makers and supported their local efforts for change'. None existed, so we started Spark*.
How do you coordinate an organisation which works internationally?  
By first having a very strong understanding of exactly what the organisation is there to do. Strategic focus is everything. If you randomly asked two members of the Spark* team what we do, I would be very surprised if they didn't give you almost identical answers. Once the strategy is clear, it is then a matter of finding and keeping A-list individuals who believe passionately in the model. 
How did you first become interested in community development?  
As a 19-year-old in India on a bus crowded with people and chickens. I was troubled by what I had done in Iraq, and my response to that was to travel and study a lot, to see if there was a different perspective out there to what I had thought was the norm. On the bus that day my close friend and I spent hours and hours trying to brainstorm solutions to the challenges that we were seeing out of the window. This was just the beginning though. I now realise that in most cases it is not the answers that I could come up with which matter, but those of the 50 other Indians on the bus.
How do you balance your roles with The LEADERS Project and Spark* with other commitments?  
I believe passionately in the missions of both organisations, so I run mostly on adrenalin and inspiration. The Greeks defined happiness as the full use of your powers along lines of excellence, and I am lucky enough to say that I am truly happy in the work I do. But there are many demands in running these two projects, so I ensure that I am spectacularly focused on exactly what needs to be done to move both of them forward. I continually ask myself whether what I am doing right now is taking me closer to my vision.
What do you believe are the greatest barriers to young people achieving?  
I think the greatest barrier is people thinking that they do not have worth. Having the confidence to say that you have something to offer is huge. I was lucky enough to study at Cambridge University, and before I got there I was pretty nervous about not being up to scratch. But then when I arrived, I looked around me and thought, I can compete here, I have something to offer and I am going to have to back myself. In Australia that is tough because we have this tall poppy syndrome. I heard recently about a leadership summit where everyone was given a tall poppy as they walked in and told, 'get over it, and let's do something great'. I think that is excellent.
Who or what has been the biggest influence on your life?  
I was lucky enough to have extremely supportive parents who backed me all the way, even with some of my crazier decisions. That has been very important to me.
What is the greatest advice you have been given? 
That every year is the best year of your life. Thinking that the next 12 months is going to be the most exciting, successful and inspired year so far is a really powerful way to approach the world.
What advice would you give to young people wanting to start their own organisation or project?  
Really hone down on what you find unacceptable in your world. Determine what it is that you can do to change it. And then identify the first three people who you need to make it a reality and go and talk to them. I also think that it is really important to have a good look around to see what people are already doing. When we started Spark* we thought long and hard, and kept asking the question, 'if someone has one dollar to give to Spark* or Oxfam, and they give it to us, and we don't do a good job, then the world is worse off, and that money should have gone to Oxfam'. If you think that you can be the best in the world at the work you do in a given field or place, and are eager to join with other organisations who are the best in the world at what they do, then I would say go for it. Otherwise get as many people as you can to support the established organisation which is already doing great work in the area that you were thinking about starting your project in. 
What do you believe has enabled you to succeed in your achievements? 
Matching passion with real outcomes. As my passion increased for the work I do, I made sure that it wasn't something that I just talked about over coffee with people, or dreamed about while I wasted my life in a job I didn't enjoy. I went after it, with everything I had, and that made all the difference.