Ellen Sandall: National Director, Australian Youth Climate Coalition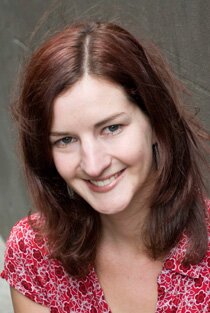 How did you first become involved in climate change action?
I first learnt about climate change when I was at university. At the time, I was campaigning to help save Victoria's native forests from being logged. When I learnt about climate change I realised that even if we save our forests, they will be severely impacted by climate change. I like fighting problems at the source, so I started campaigning on climate change. I also realised it was an issue that we could all do something about, no matter who we were or where we lived.
What do you hope to achieve working with AYCC?
We are all about raising the voice of young people on the issue of climate change, because we are the generation who will be most affected, but we also have the vision and creativity to be part of the solution. This year our aim was to help get a carbon price, because it means big polluters pay to help clean up our atmosphere, and the money goes back into renewable energy. After that, we'll be focusing on getting more funding for renewable energy and for sustainability education in schools and universities. Ultimately we want Australia to be powered 100 percent by renewable energy.
What are the main concerns you are hearing from young people?
They're deeply concerned about climate change because it means we might not inherit the kind of future we want to. They're worried that politicians just talk and squabble and don't do anything. They're sick of all talk and no action. They want Australia to get on with the job of building a clean energy future.
How can young people make their voice heard?
Through voting for people who have the best climate policies, through meeting with politicians directly (its easy, just ring them up and ask for a meeting), writing letters to the paper, talking to their families and friends, participating in conversations online, joining groups like the AYCC – they can do this even if they're too young to vote.
What does your role as National Director at AYCC entail?
It's different every day. I'm responsible for overseeing the whole organisation and for anything that has to do with us communicating to the 'outside world', such as media interviews, organising partnerships with other groups, developing the strategy and ideas for our next projects, and finding the money to keep the organisation running. I travel around a lot (on the bus, train or offset my flights of course) meeting other groups to tell them what AYCC is about and to meet with our volunteers across the country; and I often go to Canberra to tell our politicians what young people want them to do.
How do you balance being National Director of AYCC with other commitments?
Being the National Director of an organisation means you're constantly on the go and there often isn't room for much else. I feel lucky to do this work because I love it, so I want to do it as well as I can; and it's lot of fun working with my friends on an issue we care about. I try to take weekends off, where I can, and have downtime.
What is AYCC's mission?
To create a generation-wide movement to solve the climate crisis – before it's too late – through long-term cultural change and short-term political change.
How does AYCC inspire young people to give so much of their time?
People come to AYCC because they get to contribute in ways they can't at other organisations. For example, young people get experience working with the media and politicians at a high level, which, without years of experience, would be impossible in other organisations. We really allow people to do exciting work, which makes them want to stay and give lots of their time; and our volunteers are also just so passionate about solving climate change that they're willing to give their time to such a good cause.
How has AYCC established such a strong group of supporters?
Through having a strong mission that people believe in, through being creative, through making sure we have fun and have social events and connections between people, and designing our campaigns in that way.
What is AYCC's position on the carbon price?
We support it – it's a great first step in moving us to a clean energy future because it gives business an incentive to move away from polluting energy and towards clean energy.