Greg Irons: Tasmania's Young Australian of the Year 2012 and director of Bonorong Wildlife Sanctuary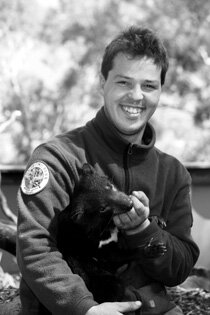 How and/or why did you first become interested in native wildlife?
Since I was a kid I've been fascinated by animals in general, anything that was alive. People have different passions, for example music or sport, but for me it has always been animals.
What inspired you to buy and develop Bonorong Wildlife Sanctuary and the Wildlife Rescue Service?
When I was about nine years old, I found a Southern Boobook, a type of owl, with a damaged wing. I rang around looking for advice on how to care for it, but I couldn't find any. In the end I rehabilitated it with the help of a vet. From then on I would care for any injured animals I found, even sparrows! When I started working at Bonorong, there was still no 24-hour wildlife assistance service in Tasmania. I decided that a private business like Bonorong could, as a social enterprise, support a wildlife service and do as much, if not more, than a government-funded or charitable service.
Being a young person, do you feel you faced any barriers to successfully fulfilling your role?
I first tried to buy Bonorong when I was 23 years old. When I went to talk to banks about obtaining finance, they looked at me as though I was mad, because I was young and wanted to borrow a considerable amount of money for the project. I became the director of Bonorong three years ago, but people still fob you off and don't take you seriously. Age shouldn't hold you back. Why wait until you're 40, if you have the passion and the experience. Just persist, people will notice what you're doing if you're doing it well.
Who has been the greatest support and influence in 
your life?
Definitely my family. I was a monstrous child. I dabbled with wrong things and school wasn't for me, I was bored by the academic curriculum. I come from a family who are rather academic, so I was a bit of the black sheep; however, they always supported me to do what I was passionate about.
What do you think are the most interesting aspects of working with animals as a career?
You learn something new every day. When I first started working at Bonorong, I thought I knew it all. I'd read a lot about the animals, such as Tasmanian devils, but it's very different to actually working with them.
What projects are you most passionate about at the moment?
We're really concerned to see the Wildlife Rescue Service expand to cover the whole of Tasmania and are looking to increase funding to continue the program. We're also increasing the facilities for the rescue and rehabilitation of seabirds in the state. Tasmania has no penguin rehabilitation service, even though the state is close to Antarctica and has large penguin populations. Bonorong is building a penguin and seabird rehabilitation enclosure, which will include a penguin rehabilitation pool and an enclosure for the rehabilitation of albatrosses. We're also recruiting more seabird carers; up until recently there has been only one carer in the state.
What positive results have you seen since becoming Director of Bonorong Wildlife Sanctuary and the Wildlife Rescue Service?
he effect of the Wildlife Rescue Service goes a lot further than the actual care of injured wild animals. For example, we're able to involve a lot of people who can't be carers in our FOC Wildlife program, which has over 500 trained people who rescue injured animals and deliver them to carers or vets. Bonorong is also about educating to prevent the destruction of wildlife and the environment. We run educational programs in a range of settings – from kindergartens to nursing homes. The aim is to make people aware of the role of the environment in relation to wildlife and to instil a passion for wildlife, which is a good way to change attitudes to the environment.
How do you balance running Bonorong Wildlife Sanctuary with other commitments?
It's a lifestyle, it has to be. After many years, I decided to have one day off a week, but then a teaching position came up one day a week where I could teach about animals, so I couldn't resist that. My partner also works at Bonorong and we live on site. While we accept that it is a lifestyle, it's important to have a good team behind you and we have fantastic staff. We have just had our longest break in nine years, being two and a half weeks.
What advice would you give to young people wanting to start their own organisation or project?
The biggest piece of advice I would give is that when you're told no, don't give up. Use that response as fuel for your fire and think to yourself, 'How dare you say no to me'. Try your best to do something a bit different from what everyone else is doing. Consider setting up a social enterprise. Many people feel that the government is responsible for providing all services and programs we could possibly require; however, at the end of the day, it is good to give back to the community, and good for your own morale.