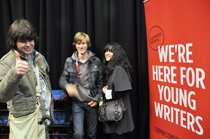 Name: Express Media
Location: Melbourne
Employees: 4 part-time
Focus areas: We're here for young writers
Website: www.expressmedia.org.au    
What is Express Media's mission?
Express Media provide support and development opportunities for young people in writing and media.
What services does Express Media provide? 
Express Media is recognised as the peak organisation for young writers in Australia. We present an annual artistic program that aims to develop creative skills and build capacity among young people. Our services include:
Publications, including Voiceworks national youth literary magazine, Buzzcuts arts reviewing website, The Under Age online newspaper and The Signal Express online arts and culture magazine
Awards, including the John Marsden Prize for Young Australian Writers and Express Media Awards
Training and development opportunities, including the NEWS National Editors Workshop and Skillshare. We also conduct workshops and panel sessions in diverse writing and media forms
Resources, including the National Young Writers Group, workshops and National Young Writers Month program
How does Express Media engage with youth?   
Young people engage with Express Media through submissions to our publications, volunteering in our internship program, volunteering as writers or editors for our publications, and recognition through our awards programs.
How long has Express Media been around and how did Express Media come about?  
Express Media was founded in 1985, the international year of youth, by Jo Moulton. Jo was an ABC employee who, after a research trip to New York, decided to establish an Australian bureau of the 'Children's Express' program operating in the United States. Many funding applications and a few name changes later, Express Media redefined itself to focus on young writers and artists working with words.
What are the major challenges Express Media is facing?   
The publishing industry is going through some interesting changes with the rise (and rise) of the ebook industry. But this is also a new opportunity for us, and this year we've made some inroads into creating ebooks of our own and will continue to experiment with this in 2012.
What does the future hold for Express Media?   
More publications featuring young writers! We believe publishing young writers is our major strength and we hope to continue to provide more opportunities to do so into the future. 


What is Express Media's most important achievement to date? 
It's hard to name one project or person that has been the most important to date in our 26-year history. Voiceworks, a publication which is now in its 23rd year, has been a major ongoing success as a place for writers under 25 to be published. Voiceworks has shown a remarkable ability to adapt and change with new generations of editors, writers, and young designers. So we're pretty proud of that!