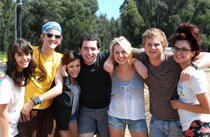 Name: The Reach Foundation (Reach)
Location: Collingwood, Victoria, and Newtown, Sydney
Employees: 41 staff and 138 'Crew' (young people who design and deliver Reach programs)
Focus areas:  Promoting mental health and wellbeing among young people aged 10 to 18 through school and community-based programs
Website: www.reach.org.au  
What is Reach's mission?
To encourage all young people, no matter what their circumstances, to believe they can achieve.
What services does Reach provide?
Each year, Reach's preventative programs positively impact over 57,000 young Australians in metropolitan and regional schools and communities across the country. Our national school and community-based programs are run for young people aged 10–­18 and are designed to promote their mental health and wellbeing. Through specialised teacher training workshops, Reach also works with teachers and youth professionals on skills and techniques to effectively engage and facilitate young people.
How does Reach engage with youth?
All Reach programs are run by the young Reach Crew, so there's no preaching; just young people inspiring young people to believe that, no matter what their circumstances, they can achieve. Reach programs create safe and supportive spaces where teenagers can share stories and experiences honestly. A place where they can increase their self-belief, discover who they are and recognise that they're not alone.
How long has Reach been around and how did the organisation come about?
Reach has made a positive impact in the lives of over half a million young Australians for nearly two decades. Reach was established in 1994 by Jim Stynes OAM (AFL Brownlow Medalist, youth motivator, and Victorian of the Year 2003) and Australian film director, Paul Currie. Jim and Paul were two young men who recognised that too often the greatness in young people was hidden behind fear, anger or hurt. Reach was created from a desire to inspire young people to believe in themselves and get the most out of life.  
What does the future hold for Reach?
Our dedicated team of staff and Crew are focused on delivering Reach programs to even more young people, teachers and youth professionals in schools and communities across Australia. Reach believes that every young person should have the support and self-belief they need to fulfil their potential and dare to dream. Reach is committed to achieving this vision and has recently established a second Reach base in NSW.  
What is Reach's most important achievement to date?
We're proud of the fact that over half a million young Australians have experienced a Reach program. Reach is for all young people, no matter what their background or circumstance. It's a space where everyone is welcome. When Jim Stynes and Paul Currie established Reach their dream was for it to be a place run by young people for young people. Today, the 138 inspiring Reach Crew, trained in the art of facilitation, deliver Reach programs that positively impact tens of thousands of young people every year. The Crew also interact with schools, Reach funders and supporters, form part of Reach's management team and Board and help shape the future direction of Reach.