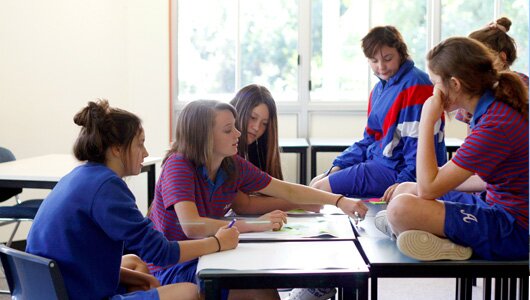 Name: Smart Artz
Location: Brisbane (QLD Office) and Sydney (NSW Office)
Employees: Five
Focus areas: Creative development, youth messaging
Website: http://www.smartartz.org.au  
What is Smart Artz's mission? Our purpose is to engage with young minds and give them the opportunity to work on real-life projects, learn new skills and develop their creative potential.  
What services does Smart Artz provide?
Our services focus on youth engagement and creative concept development. Our workshops are built on the principles of design thinking to foster an educational culture where creative intelligence can prosper.   
How does Smart Artz engage with youth?
Smart Artz engages with young people through workshops in schools, community centres and at universities. Smart Artz projects are brief-based, and concepts are developed through intensive one-day workshops with young people.   Once the brief is announced (e.g. messaging around youth suicide prevention), a group of 15 students brainstorms and devises it's concept and how best to showcase it.  The concept could be presented in anything from a work of art, to a television advertisement to a social media campaign. The students provide the concept and showcase the suggested vehicle for communication, but do not develop a finished product for the public – that is for the client to develop.  
How long has Smart Artz been around and how did Smart Artz come about?
Smart Artz was established as a not-for-profit in September 2010 by philanthropist and entrepreneur Graeme Wood. Graeme has been a long-time supporter of the arts and, in particular, youth arts programs and organisations where creativity is the dominant theme.   The success of these programs and the difficulty of assuring long-term funding for them was the catalyst for Smart Artz. The commercial success of Smart Artz will provide ongoing financial support for these other programs that develop creative talent in the arts and in the broader education system.  
What are the major challenges Smart Artz is facing?
Our biggest challenge is to change the mind-set that surrounds creativity. We believe that creative intelligence should be a fundamental component of a young person's education. By applying this creativity to solve social problems, we aim to show young people, first-hand, that they can create the change they want to see in the world, not just be part of the change.   Our second biggest challenge is changing the way businesses approach youth engagement. Rather than simply 'consulting' with young people, Smart Artz are taking a leading role in demonstrating that youth programs are most successful when they are designed and run by young people themselves.  
What does the future hold for Smart Artz?
Smart Artz is working on creating a regular series of workshops open to young creatives from around Australia. These workshops will be held in schools, capital and regional centres and universities, allowing young people from all backgrounds to hone their creative problem-solving skills and put them to use solving real-world problems.   We hope to use our work to provide insight into the development of the National Arts curriculum, currently in development.  
What is Smart Artz's most important achievement to date?
Smart Artz was invited to take part in the Queensland Ideas Festival local food challenge workshop facilitated by OpenIDEO in May 2011. During this time it worked closely with leaders in government, private enterprise and food production to consult on the role that young people have to play in improving the sustainability of food production and consumption in Australia.