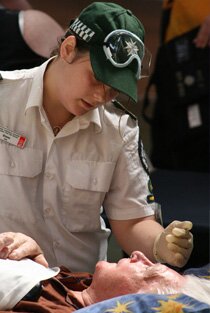 Name: St John Ambulance Australia
Location: Nationwide
Employees: The national office currently has 14 employees
Focus areas: health & youth development
Website: www.stjohn.org.au


What is St John's mission?
Our humanitarian mission:
To encourage and promote all humanitarian and charitable work for the relief of persons in sickness, distress, suffering or danger, without distinction of race, class or creed.
Our goals in Australia:
To make first aid a part of everybody's life
To be the leading provider of first aid services, training and products
To provide first aid-related services which build community and individual resilience
Provide highly accessible and effective ambulance services where contracted by Government
What services does St John provide?
St John Ambulance Australia is a self-funding charitable organisation active in all states and territories, dedicated to helping people in sickness, distress, suffering or danger. 
Part of our service to the community includes a high-quality national youth development program. St John achieves this through our long-established Junior (ages 8–12) and Cadet (ages 12–17) programs, and also youth councils.

St John currently has more than 3,500 Cadets and around over 500 Juniors involved in our youth development programs. Being in the St John Junior and Cadet program is about first aid, learning other valuable skills, giving time to help others and forming friendships. But most of all, being in St John Juniors and Cadets is about having fun.
Our youth councils play an important role across the entire organisation in obtaining the views, ideas and experiences of young members, advocating and representing those views to the organisation and progressing ideas.
How does St John contribute to the youth sector?
Youth development in St John provides coordinated and progressive opportunities for young people aged 8–25 years. It enables development of their social, physical, emotional, intellectual, moral and cultural skills and behaviours. By combining first aid and youth-oriented activities within St John, we aim to develop self-reliant and confident young people who take their place as responsible members of society with a developed sense of community service. In doing so, we also aim to promote young people as valued and vital members of the community.
St John also engages youth councils whose role are to provide guidance to St John on issues affecting the organisation and its future development, particularly concerning the opinion and interests of young people. St John's Youth Councils are for young people, by young people, and are made up of members aged 12 to 25 years. Youth councils in St John provide a forum for young people to get involved in decision-making processes, and provide feedback and support to the organisation.
How long has St John been around and how did St John come about?
St John has been active in Australia for 128 years, and internationally is part of a wider organisation with a long and honourable history. St John dates back to medieval times, when the Knights of St John offered care and shelter for pilgrims and crusaders. St John spread to Australia in 1883, with the youth movement beginning in 1922 with the opening of our first Cadet division.  St John is a Royal Order of Chivalry with the Queen as its sovereign head.
What are the major challenges St John is facing?
In St John we are always trying to find enthusiastic and motivated adult leaders to ensure that our young members can participate in our youth development program. Without adult leaders who ensure the care of our young members and program delivery, we would not be able to operate our fantastic program and provide assistance to the community.
What does the future hold for St John?
At the moment, St John's key priorities are to make first aid a part of everyone's life and developing ways of creating community and personal resilience. In particular, we are looking at the ways young people can become more prepared for emergencies and extreme weather events.
Our youth development program and youth councils play a crucial role in the organisation moving forward with these goals, especially as we consider ourselves to be a youth-focused organisation. Currently, over 55% of St John members are aged 8 to 25. We believe that young people are our volunteers now, but also the volunteers of the future. 
What is St John's most important achievement to date?
One of St John's most important achievements to date is that the Chair of St John's Australian Youth Council has secured a position as a director on our National Board. Having a young person on the National Board of Directors ensures that a youth perspective can be incorporated into the organisation's decision-making processes. This helps St John to achieve its organisational objectives to become a more diverse, competitive and sustainable organisation now and into the future.