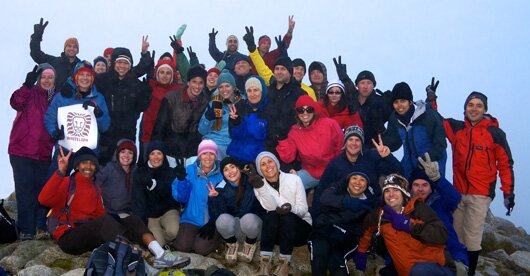 Name:Whitelion
Location: Rural and Metropolitan locations in Victoria, Tasmania, South Australia, New South Wales. Head office in Parkville, Melbourne.
Employees: 70
Focus areas: Youth Justice and Young People at risk of entering this system – e.g Young People in Out of Home Care and at risk communities
Website: www.whitelion.asn.au/
What is Whitelion's mission?
Whitelion is a national not-for-profit that builds relationships and creates opportunities for vulnerable and high risk young people.
What services does Whitelion provide?
Provide connections to opportunity in the community through Employment and Mentoring Programs, positive experiences through camps and role model sessions, and intensive support and connection to specialised assistance through gender and culturally targeted Outreach Programs.
How does Whitelion engage with youth?
We offer our service to young people in the community, in schools, in Out of Home Care, in the courts and in custodial centres.  Whitelion programs are voluntary – meaning Young People choose to engage when they are ready to take the next step towards connecting with the broader community.
How long has Whitelion been around and how did Whitelion come about?

Whitelion was founded in Melbourne in 1999 by youth worker Mark Watt and former AFL footballer Glenn Manton. Mark and Glenn could see that the same Young People kept coming back into the custodial system – they would leave, only to be exposed again to the same unstable family environments, troubled peer groups and lives without school or employment. Eventually these young people would end up back in custody. Mark and Glenn utilised their contacts in the sports and business arenas to offer the young people in custody opportunities to break this cycle of disadvantage and find a path away from offending behaviour. Ten years later Whitelion offers a range of support services in this area to young people in metropolitan and regional areas across four states.

Where did the name Whitelion come from?
Glenn Manton is a very visual, artistic person and he pictured a White Lion as an image of hope and protection for the young people – a lion, stalking through an often harsh urban environment, protecting vulnerable young people from being dragged into disadvantage.
What are the major challenges Whitelion is facing?
Like most not for profit organisations, Whitelion is in a constant cycle of searching and applying for funding from a range of sources to ensure its programs can keep running. A lack of consistent and ongoing funding – and the high level of competition for funding – in the charity sector is a major challenge.
Troubled young people who engage in antisocial behaviour is not a topic many in the community embrace easily. Another challenge Whitelion faces is to break down prejudices in the community to be able to advocate on behalf of young people involved in the youth justice system. It is highly rewarding when an individual, group or business owner listens to the complicated and distressing path many young people take prior to ending up in custody and appreciates that the individual in that story has the potential to change their life for the better.
What does the future hold for Whitelion?
For the next few years Whitelion will work hard to consolidate its national presence – for the first point in Whitelion's 11 year history we are helping more young people, across more locations and with more staff, than ever before. 
What is Whitelion's most important achievement to date?
Whitelion celebrated its ten year anniversary in 2009. For a small charity that started with two youth workers and a big dream, this was a fantastic achievement for all who have been involved in the journey.
Whitelion needs more mentors! Whitelion are currently recruiting volunteer mentors. Do you have the ability to connect well with young people and have a bit of spare time to offer? Whitelion is recruiting mentors to share their interests, hobbies and skills and provide a supportive friendship to our young people.  Check out our website for more information.