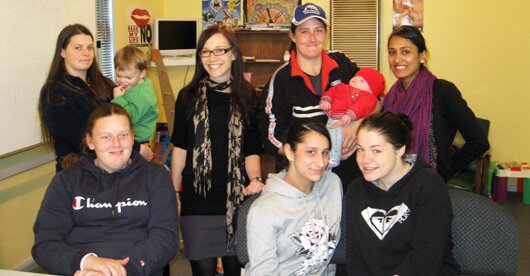 Name: Youthlaw
Location: Victoria
Employees: 10 staff, consisting of the Director, lawyers, policy officers, finance officer and project officers
Focus areas: Legal advice and information for young people, advocacy on a range of youth justice issues
Website: www.youthlaw.asn.au
What is Youthlaw's mission?
Youthlaw works to achieve systemic responses to the legal issues facing young people by providing legal services, advocacy, law reform and preventative education programs, within a human rights and social justice framework. Our mission is twofold:
To provide an accessible legal service to young people under the age of 25, focusing on areas of unmet legal need
To address systemic legal and social justice issues in Victoria through community education, advocacy and law reform both for and with young people and their advocates
Youthlaw envisions a just and equitable society for, and by, young people.

What services does Youthlaw provide?
Legal advice
Youthlaw provides free and confidential legal advice for young people up to 25 years of age. Legal advice is offered over the phone, via email and Skype, face-to-face at our daily drop-in clinic, from the Salvation Army's CBD bus and at the Braybrook Youth Enterprise Hub. We also make visits to our six regional locations to offer legal advice, consult with young people and their support workers, and give legal education sessions.
Legal education and training
Community legal education sessions are offered to a broad cross-section of the community, including students, police officers, teachers, young people, community elders, youth workers and other professionals, as a way of highlighting the ways in which the law affects young people. In the 2009/2010 period, Youthlaw conducted over 80 of these sessions in the community.
Policy & Advocacy work
In addition to legal services, Youthlaw also performs an advocacy role to bring awareness to the specific legal and justice issues experienced by young people. Youthlaw is currently conducting three major campaigns in the areas of young people and policing; young people and infringements; and diverting young people from the justice system.
 
How does Youthlaw engage with youth?
Service delivery
We encourage all young people under 25 to contact us for legal information whether by telephone, email, face-to-face or Skype
We provide flexible and free drop-in legal clinics at Frontyard Youth Services
We endeavour to maximise our reach by providing legal advice at a number of outreach sites
We conduct many legal education sessions with young people in a number of settings across the state
Participation
Based on our strong commitment to involving young people in our work, Youthlaw ensures the participation of young people on our Board, our staff, our volunteer base, and in our work by providing them with support, a sense of ownership and an acknowledgment of the significant work they do.
Young people's views inform much of our policy work and our organisational policy platform. Our methods of involving young people have included supporting youth-led campaigns, focus groups and forums, face-to-face surveys, the production of two DVD resources, and seeking their participation in media interviews.
How long has Youthlaw been around and how did Youthlaw come about?
Youthlaw was established in 2001 as a partnership between private legal service providers and a community legal centre to address young people's unmet legal needs.
What are the major challenges Youthlaw is facing?
We are seeing a 'race to the bottom' on law and order in Victoria, which is having significant consequences for young people, particularly those experiencing disadvantage or discrimination. Youthlaw will be advocating for the protection of young people's rights and wellbeing within this youth-hostile environment.
An ongoing challenge for most community legal centres is sourcing sustainable funding, particularly for our policy and advocacy work.
What does the future hold for Youthlaw?
Over the next three years our focus will be on three major campaign areas:
young people and infringements (fines)
young people and policing
diversionary programs for young people
These areas will also inform our legal casework and we will be looking for opportunities to run test cases to achieve law reform in these areas. As much as possible will be inviting young people to learn about and assert their human rights and support us in our advocacy work.
What is Youthlaw's most important achievement to date?
Assisting thousands of young Victorians to assert their rights and better navigate the Victorian legal system.