The National Awards for Local Government
Youth Engagement Category Award Winners
This information is from the 2011 Winners Book produced by the office of the Minister for Regional Australia, Regional Development and Local Government, Simon Crean.


Winner: Moonee Valley City Council, Victoria
The Sustainable Employment and Economic Development (SEED) Youth Project
The Sustainable Employment & Economic Development Program (the SEED Project) is a transformational program based originally at the Flemington Public Housing Estate that has achieved significant gains for young African people living around the housing estate.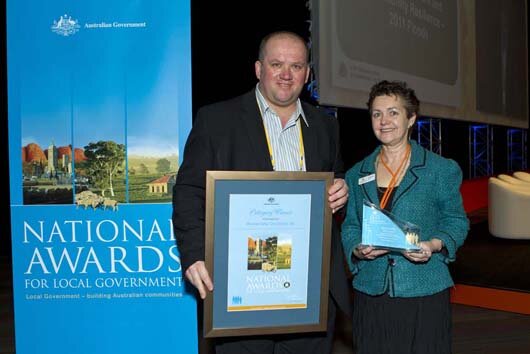 The SEED project started with a simple aim: to provide young people with real on-the-job skills development and the real life outcomes that come with having a job. For example, being able to support yourself and therefore participate and contribute to the community.
SEED has gone beyond that starting point and provided a meaningful model to develop partnerships between business, local government and the community to achieve a lasting network of industry representatives and community members interested in supporting youth pathways. By connecting with local businesses and community groups, the project has delivered sustainable employment outcomes, and built resilience and confidence in the targeted young people.
A critical component of its success has been the development of a strong mentor support model for youth to sustain future employment placements with employers and to build the leadership potential of the young people through the cooperation with Flemington Neighbourhood Renewal Project.
By placing young people at the centre of government process, the project has demonstrated a holistic, innovative and coordinated model for community and youth engagement. The development of SEED has also had broader impacts on the young African Australian community at Moonee Ponds.

The project is now set for its next exciting stage by expanding to a regional project with the help and support of Regional Development Australia and a collective group of regional councils. As a result of the SEED leadership mentoring program, SEED participants played a significant role in organising the national Australia Somali Football Association Championship, 2009.
Contact: Mr Stuart Gillespie
Telephone: 03 9243 8888
Fax: 03 9377 2100
E-mail: [email protected]
Small Council Winner: Circular Head Council, Tasmania
Seven Up Youth Centre
Circular Head Council is taking a proactive role in including and inspiring its young people, encouraging them to actively participate in the community. With this goal in mind, Circular Head Council, staged 'y engage', an entertaining and interactive youth forum as part of National Youth Week 2009. This forum focused on teasing out some actions and strategies that could be put in place to ensure young people feel included and engaged in community life.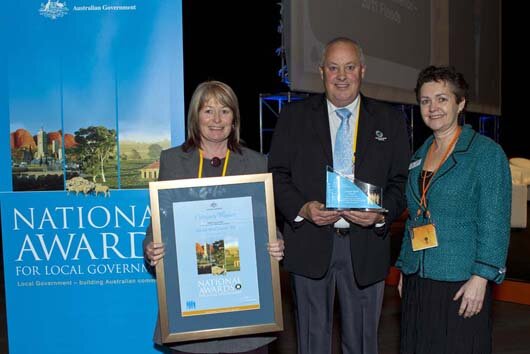 In response to a need for a place for young people to go, a 'youth space', Youth and Community Officers from Circular Head Council and Rural Health Tasmania worked alongside the community's young people to ensure that their dream was realised. Consequently the Seven Up Youth Centre was established.
The project took two years to fully develop, from its initial inception through to the trialling of two possible venues and formats, which provided many learning experiences and enabled the young people to further develop the model. Throughout the establishment process, young people were continually consulted. Students felt that the name Seven Up reflected the age group at which the centre is aimed, namely grades seven and up, and designed an appropriate logo.
Secondary school leadership teams and Circular Head Council's youth advisory council, the Circular Head Youth Leaders (CHYL) continued to conduct peer surveys, to ensure that the project remained relevant to student needs. Information was disseminated by the young people through social networking sites and other media.
The project culminated with a successful funding submission to the Department of Premier and Cabinet through its Community Capacity Building Grants program on behalf of all the partners, including Circular Head Council. This funding will ensure that the Centre is able to re-open in 2011 and continue to deliver quality programs to service the youth of Circular Head.
Contact: Ms Yvonne Stone
Telephone: 03 6452 4800
Fax: 03 6452 4861
E-mail: [email protected]
For more information on the awards visit:
http://www.regional.gov.au/local/awards/index.aspx
2011 Winners Book (
http://www.regional.gov.au/local/awards/files/NALG_winners_book_2011.pdf
)
Media Release for 2011 Category Winners (
http://www.minister.regional.gov.au/sc/releases/2011/may/sc047_2011.aspx
)
Media Release for 2011 National Awards for Excellence (http://www.minister.regional.gov.au/sc/releases/2011/june/sc081_2011.aspx)