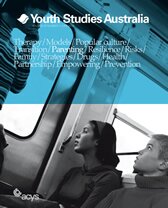 Feature articles in this issue:
Comfortably numb: Young people, drugs and the seductions of popular culture
Karen Brooks
According to Karen Brooks, young people have adopted what she terms resistance conformity. That is, they believe they are fashioning a unique identity carved in their own self-image, when in reality they are donning a prefabricated corporate and cultural mould. She believes that parents, educators and caregivers need to educate young people to be discerning in their pop culture consumption, and adults need to educate themselves about what young people are consuming. By empowering young people to "read" the images of themselves through cultural pedagogy, and providing them with tools to decrypt these images, adults will enable young people to make informed choices.
Full text | PDF

RRISK: A sustainable intersectoral partnership
Jane Elkington, Eric van Beurden, Avigdor Zask, Reyna Dight & Wendy Johnson
RRISK (Reduce Risk Increase Student Knowledge), a school-based harm minimisation program, aims to provide students in Years 10 and 11 with skills to make informed decisions to reduce risks associated with drug and alcohol use, driving and celebrating. RRISK provides a framework for an integrated response to addressing these issues. A detailed assessment of the intersectoral partnership that has conducted RRISK for five years reveals several elements that may explain its success.
Full text | PDF
The BEST Plus approach to assisting families recover from youth substance problems
John Bamberg, Steven Findley & John Toumbourou

The BEST Plus program is a whole-of-family therapy option for families to address youth substance abuse issues, and challenging and antisocial adolescent behaviours. It uses an evidence-based strategy that can be implemented widely in the community, and is proving to be a popular and relevant framework for professionals to engage and assist families in reducing adolescent problem behaviours. Evaluations indicate the program is an effective forum for parents and siblings of adolescent drug abusers to redevelop positive family environments that encourage responsible behaviour and recovery from drug abuse.
Full text
|
PDF
The Resilient Families program: Promoting health and wellbeing in adolescents and their parents during the transition to secondary school
Alison Shortt, John Toumbourou, Rianna Chapman & Elke Power
Resilient Families is a school-based prevention program designed to help students and parents develop knowledge, skills and support networks to promote health and wellbeing during the early years of secondary school. The program is designed to build within-family connectedness (parent–adolescent communication, conflict resolution) as well as improving social support between different families, and between families and schools. The program is expected to promote social, emotional and academic competence and to prevent health and social problems in youth.
Full text | PDF
The 'Teen Triple P' Positive Parenting Program: A preliminary evaluation
Alan Ralph, Matthew Sanders
The Teen Triple P program is a unique parenting and family support system developed at the University of Queensland for parents of children who exhibit antisocial/conduct behaviour problems in early adolescence. This evaluation empirically validates Teen Triple P as an early intervention and prevention strategy that can be implemented in secondary schools. The program provides parents with assertive discipline skills to preserve parental authority in a consistent and nurturing manner and to help teens maintain regard for family norms of appropriate behaviour as well as respect for school and wider community expectations.
Full text | PDF
Primary health care for young people: Are there models of service delivery that improve access and quality?
Melissa Kang, Diana Bernard, Tim Usherwood, Susan Quine,
Garth Alperstein,Helen Kerr-Roubicek, Abigail Elliott & David Bennett
Using seven principles as reference points, the NSW Centre for the Advancement of Adolescent Health has developed six 'models' of primary health care, which appear promising for improving youth access and quality of primary health care for young people aged 12 to 25. The authors argue that now these models, which include the GPs in Schools model and the schools-based clinic, need to be extensively evaluated so that sustainable, evidence-based health care can be more widely adopted.
Full text
|
PDF