Parallels between on and offline youth participation
by Kirsty Leong, Luella Paine and Alex Hughes
Youth Studies Australia, v.28, n.3, 2009, pp.57-60.
This short article consists of a transcript from a presentation given at the My Space, Your Space, Our Space: Australia and NZ Adolescent Health Conference held in Melbourne in 2008. The presentation was given by policy officers from the Victorian Office for Youth.
Kirsty
Today we'll be using an interview format to ask our 'experts' to draw out the parallels between online and offline consultation with young people. We'll use the following case study to demonstrate.
This year, the Victorian Equal Opportunity and Human Rights Commission (the commission) undertook a project that explored young people's right to participate in decision-making and public life. They approached the Victorian Office for Youth (OFY) to assist with their consultation with young people.
Luella, can you tell us about the approach that the OFY took?
Luella
While OFY could have assisted in a more tradi-tional way via its network of youth organisations, we thought that an issue-based consultation like this would be perfect to take online, especially to reach a different kind of youth audience, so OFY assisted as a technology partner through youthcentral.
ICT – Information and Communication Technology – can offer many options to facilitate participation via the web such as forums/blogs, user-generated contentinitiatives and social networking/online communities. However, for this project, we recommended an online survey as it provides a more structured feedback and data collection mechanism.
So, youthcentral provided the technology and online expertise, hosted the survey on its website and was part of the overall communication strategy. The survey was promoted using a mixture of online and offline strategies such as mail, email, websites, forum posts, word-of-mouth etc.
The commission also ran an offline version of the survey so this case study is a typical example of how online and offline consultation methods converge.
Kirsty
The subject matter, 'a person's right to participate', isn't exactly a light-hearted subject. How do we make issues like this appealing to young people?
Alex
Although it's true that we need to make our consultations creative and interesting, we should also acknowledge that many young people do want to contribute to the world around them and are interested in engaging with serious issues.
We often hear comments about how young people are only interested in their individual lives and not in political processes. This is a misconception. Research has shown that young people are interested in contributing to government decision-making. It is the ways in which we engage with them that need to shift to be relevant to young people's experience.
For example, the recent National Youth Affairs Research Scheme's report Rewriting the rules for youth participation (Bell, Colin & Vromen 2008) quotes many young people expressing interest in having their say in politics and government. Yet, at the same time, this report also reflects young people's frustrations at the limited avenues through which they are 'allowed' to participate in government decision-making, which mainly focus on traditional methods of consultation such as youth roundtables and councils.
This research highlights that we need to make our consultations relevant to young people – not only in relation to the content, but also the engagement style – and to draw on the range of communication mechanisms young people are using.
Other research has identified that the recent generation of young people are more likely to participate in issues-based consultations than in those that are "for consultation's sake" only. That is, they are more interested in ongoing consultations than in shorter term project-based consultations. This is illustrated in the above graph (Norris in Collin 2008).
We know that young people can't be seen as a homogenous entity; therefore, in planning consultations we need to assume that we will attract a range of young people for different reasons. For example, some may engage with a consultation because they are passionate about an issue, whereas others may engage because they are interested in the process and their right to have a say about a range of issues in community life.
So, instead of assuming that young people aren't interested in 'heavy' or political issues, we need to start recognising that it is often the way we promote the opportunity to participate that will determine young people's engagement.
Luella
And we need to be clear that just because something is online, we can't assume it will be instantly 'cool' and appealing to young people or that new technology is even a young person's domain. The technology is only a tool that provides us with different ways to consult and involve people, but it doesn't solve the challenge of making a consultation relevant and inclusive for a diverse range of young people.
We chose an online approach because it offered:
potential to reach a greater number of young people all around Victoria;
ways to hear from fresh voices;
an online format that young people were familiar with;
a way to validate and collect our data in a real-time setting;
a way to quickly analyse our data so we could ensure we were reaching diverse young people;
further or ongoing opportunities to participate beyond the survey; and
anonymity and inclusiveness (to a degree).
But to consult online we still needed to ensure:
a good strategy and processes e.g. clear consultation goals, outcomes, timelines;
an appropriate consultation method for the issue/audience/outcome (i.e. in this case a survey);
the tool (e.g. the survey) is relevant and usable e.g. language, tone, structure, design (best way to do this is to involve young people in process);
quality, reliable and trusted technology (tested, usable, secure, compatible, accessible); and
a relevant communication strategy (it's never a case of 'if we build it they will come') e.g. trusted brand, communication channels, online and offline promotion plans.
FIGURE 1
Typology of the evolution of Political Action (source: norris, 2003, p.22)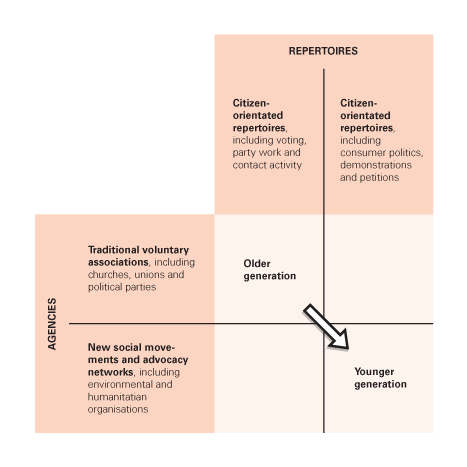 Previous | Next