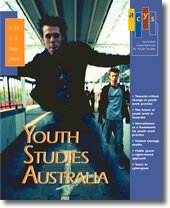 Summary of the feature articles in this issue
In the September 2004 issue:
What young people?
? the political invisibility of youth
Youth appear to have 'fallen off the radar' in social policy debate. With an election imminent, what does this mean for the future of young people and youth work in Australia?
Three papers in this issue focus on interactions between youth and those who work with them, and between youth and governments, and society more generally. The topic of youth work will again be visited in the December issue of YSA. Other challenging topics in the current issue are: violent teenage deaths, public space and rights, and teens in cyberspace.
Download a flyer about this issue
(one page, PDF format, 116kb)
Order forms | How to subscribe | Order individual articles | Order back copies
---
In the June 2004 issue:
Reaching young people
- where they are at
Providing support and services to young people requires an understanding of their circumstances, the restrictions on their mobility, their reluctance or inability to access support systems, and their restricted financial resources.
Four of the papers in this issue take different but overlapping perspectives on supporting young people. There is a paper outlining youth service provision in general and three papers that tackle specific issues of support: volatile substance abuse, homelessness in young women and adolescent mental health.
The remaining papers describe new research into the role of student bystanders in bullying and into the reasons why young women binge-drink.
Subscribe
Order forms
Order individual articles
Order back copies of YSA

Browse ...
by date:
Vol. 23, n.3, September 2004
Vol. 23, n.2, June 2004
Vol. 23, n.1, March 2004
Vol. 22, n.4, December 2003
Vol. 22, n.3, September 2003
Vol. 22, n.2, June 2003
Vol. 22, n.1, March 2003
Vol. 21, n.4, December 2002
Vol. 21, n.3, September 2002
Vol. 21, n.2, June 2002
Vol. 21, n.1, March 2002
Vol. 20, n.4, December 2001
Vol. 20, n.3, September 2001
Vol. 20, n.2, June 2001
Vol. 20, n.1, March 2001
Vol. 19, n.4, December 2000
Vol. 19, n.3, September 2000
Vol. 19, n.2, June 2000
v.19, n.1, March 2000
Vol. 18, n.4, December 1999
Vol. 18, n.3, September 1999
Vol. 18, n.2, June 1999
Vol. 18, n.1, March 1999
Vol. 17, 1998
Vol. 16, 1997
Vol. 15, 1996
Vol. 14, 1995
Vol. 13, 1994
Vol. 12, 1993
Vol. 11, 1992
Vol. 10, 1991
Vol. 9, 1989