In the September 2004 issue:
What young people? ? the political invisibility of youth
Youth appear to have 'fallen off the radar' in social policy debate. With an election imminent, what does this mean for the future of young people and youth work in Australia?
Three papers in this issue focus on interactions between youth and those who work with them, and between youth and governments, and society more generally. The topic of youth work will again be visited in the December issue of YSA. Other challenging topics in the current issue are: violent teenage deaths, public space and rights, and teens in cyberspace.
---
In the June 2004 issue:
Reaching young people
- where they are at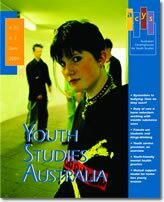 Latest issue | Media release
Descriptive flyer to download | Contents page, June 2004

The journal provides readers with interdisciplinary, research-based information and analysis on subjects such as education, training, health, housing, juvenile justice, employment, culture and subcultures.
Aimed at practitioners, researchers, policy-makers and workers in the youth field, Youth Studies Australia is also accessible and relevant to senior secondary students.
Subscribe | Order articles
Sign up for the YSA TOC ALERT to receive the table of contents of each new issue before it rolls off the press.
Peer review:
Since September 2001, all research-based papers are subject to a peer review process.
For prospective contributors:
We welcome previously unpublished editorial contributions.
Preference is for research- or practice-based articles on issues relating to Australian or New Zealand youth. Intending contributors should thoroughly familiarise themselves with the journal before submitting.
Publication guidelines, including the guide for authors and peer reviewers, criteria for papers published, and information about contributing a non-peer reviewed paper.
Advertising with Youth Studies Australia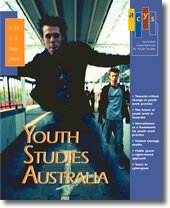 Feature articles in Vol.23, n.3, September 2004
Each issue contains feature articles and research papers on a wide variety of topics.
See Tables of contents
for past issues
Also see: Indexes to feature articles:
by subject
by author
Some articles are now available in full text on this site.
Regular columns:
Youth Monitor:
An extensive roundup, in précis form, of Australian press reports on youth issues. (Youth monitor columns are online, current year excluded.)
Youth Initiatives:
News about programs and initiatives nationally.
Out Now:
Reviews of recent publications and resources for those working in the youth field.
From the Peaks:
News from Australia's peak youth organisations.
Abstracts:
A selection of abstracts of recent research papers from other youth-related scholarly journals in Australia and overseas, selected for their relevance and interest to Australian readers. ('Abstracts' columns are online, current year excluded.)
Youth Affairs Peak Organisations:
Contact details for all Government and non-government peak youth affairs offices.
YSA Databases
Youth Monitor: newspaper articles and Abstracts of articles, based on columns in the journal (but excluding the current year).
More about the journal:
The journal,Youth Studies Australia is published quarterly by the Australian Clearinghouse for Youth Studies, University of Tasmania with funding from the Youth Bureau, Australian Government Department of Family and Community Services (FaCS).