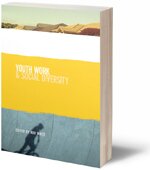 Available now
$69.95 + postage (discounts for purchases of more than one book in the series)
Note: for orders outside Australia, please contact ACYS for information about pricing and postage. 
Youth work and social diversity
Doing youth work in Australia
Edited by Rob White
ACYS Publishing
December 2010
ISBN 9781875236633, 529pp
Youth work & social diversity
Doing youth work in Australia
Edited by Rob White
Having worked in the youth sector for over 20 years, I have found the journal Youth Studies Australia to be the most informative and stimulating resource available to youth workers. The recent three-volume series from YSA entitled Doing youth work in Australia is no exception. Rob White, as series editor, has done a tremendous job bringing together articles from many authors, covering both the theoretical and the complex practice issues of youth work in a systematic way. I recommend it to any youth worker new or old!
Volume three, Youth work and social diversity, looks at:
working with Indigenous communities, including youth work in remote communities, the adoption of Nyungar cultural forms by youth workers, 'at-risk' Indigenous youth
working with young women, including issues of sexual abuse and violence
working with young men, including self-help support groups, young men and grief
working with culturally diverse communities, including drug education strategies, building capacity, young refugees and sport
hospitals, including motivating adolescents, youth arts programs
schools, including school-focused youth service; access, retention and participation
residential care, including blood-borne viruses
rural locations, including local services, mental health services, multimedia
integrated services and projects, including holistic and collaborative practice, best practice in youth work.
About the editor  
Rob White is Professor of Sociology and Director of the Criminology Research Unit at the University of Tasmania's School of Sociology and Social Work. Professor White is an internationally respected scholar in the fields of youth studies, sociology and criminology, and environmental and ecological justice. Among his books are: Youth & society; Youth subcultures; No space of their own; Juvenile justice; Crime & criminology; Crime & social control; Crime & society; Controversies in environmental sociology;Crime prevention; and Crimes against nature. He has extensive practical experience in working with youth and community workers, police services, teachers, drug and alcohol workers, government policymakers and academic researchers.