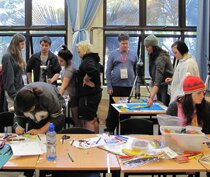 Name: lowercase
Location: National - Based in Brisbane, QLD
Employees: 6
Focus areas: Youth disadvantage, creative arts, youth engagement, community engagement
Website: www.lowercase.net.au    
What is lowercase's mission?  lowercase aims to provide employment opportunities and other positive outcomes for young people and their community by developing creative arts projects for clients across government, private and community sectors.   
What services does lowercase provide? We tailor our creative arts projects to the client and the community we are working with. We specialise in creative arts workshops, peer research and consultancy, multimedia and event production, campaign and resource development, program planning and development, and technology hire.  
How does lowercase engage with youth? lowercase engages with young people at every stage of our process, from conception through to development. Our projects are specifically developed by young people to benefit other young people.   
How long has lowercase been around and how did lowercase come about? lowercase is only just into its second year.  It came about due to a lack of employment options for disadvantaged young people in the creative arts, mixed with a fresh approach to creating and delivering projects involving young people.  
What are the major challenges lowercase is facing? As a new social enterprise the major challenge is getting the word out about our work and educating clients about what it means to be a social enterprise.  
What does the future hold for lowercase? The future holds big things for lowercase, we are excited to already see the organisation growing and we hope for more employment roles for young people, and more exciting and innovative projects to deliver in 2012.   
What is lowercase's most important achievement to date? Our most important achievement is getting the enterprise off the ground, developing our client base and delivering our first big projects!