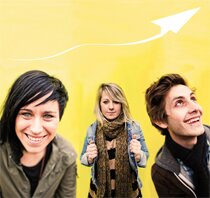 Name: PROJECT ROCKIT
Location: Melbourne
Staff: Three (Lucy Thomas, Rosie Thomas and Adam Pulford)
Focus areas: Bullying, cyberbullying, leadership, personal development
Website: www.projectrockit.com.au
What is PROJECT ROCKIT's mission?
To achieve positive, lasting change in the lives of young people by providing the tools to develop resilience so that hardship can ignite one's potential rather than extinguish it.
What services does PROJECT ROCKIT provide?
PROJECT ROCKIT is an interactive anti-bullying and leadership program that works with young people in all school, community and university settings.  Our sessions are fun and meaningful and are imaginatively designed and creatively delivered to produce positive lasting change.
How does PROJECT ROCKIT engage with youth?
Being young and having a genuine understanding of youth culture is really important with the work that we do. PROJECT ROCKIT uses a mix of games, drama, music and creative writing to facilitate key messages; we create a space where lessons are realised and not told. The team believes it's important to develop a respectful and trusting relationship with young people, especially when some of the issues we're discussing can be pretty personal or hard to talk about.
How long has PROJECT ROCKIT been around and how did PROJECT ROCKIT come about?
PROJECT ROCKIT was initiated by sisters Lucy and Rosie Thomas in 2006 in order to build empathy, resilience and leadership by tackling the issue of cyberbullying. We wanted to build a space where imagination, leadership, creative expression and acceptance are available to all young people, regardless of social labels. We've now worked with over 20,000 young people and feel totally privileged to be helping fellow young people realise their potential on a daily basis.
What are the major challenges PROJECT ROCKIT is facing?
In the five years that PROJECT ROCKIT has been running, so much has changed in the landscape of bullying and cyberbullying.  Keeping up with the latest technological and social networking trends is really important because we also have to work out how best to handle these mediums when things go wrong and how young people can best protect themselves, stand up for others and support friends when they see nasty stuff happen online. 
What does the future hold for PROJECT ROCKIT?
So much! We're taking our program online and launching the PROJECT ROCKIT eLearning curriculum.  It's going to be an epic, digital experience that channels the insights, imagination and interactivity of our face-to-face workshops into an interactive four-part eLearning program that places students in the driver's seat.
What is PROJECT ROCKIT's most important achievement to date?
We've been really fortunate to have some incredible opportunities to work with people we really admire as well as the opportunities to be part of some amazing initiatives.  But by far, the most important achievement is the change that we see over the course of a PROJECT ROCKIT program.  It's almost like, the tougher the crowd is to begin with, the bigger the reward is when they start to open up and stand up for what they believe in.