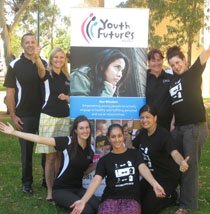 Name: Youth Futures WA
Location: North West Perth Metropolitan area
Employees: approximately 50 paid staff and 20 volunteers
Focus areas: Young people who are homeless or 'at risk' in Perth
Website: www.youthfutureswa.org.au
What is Youth Futures' mission?
Strengthening families and communities where young people are valued and celebrated
What services does Youth Futures provide?
Youth Futures provides a suite of services to young people, offering a 'wrap-around' approach. Youth Futures has a number of programs within its three streams of service, including:

Homelessness Services
Teenagers in Need of Crisis Accommodation – crisis hostel for young people aged 15-19
Transitional Accommodation Program – for young people aged 16-21
The Nest - transitional housing for young mothers (16-19) and their infant
NPA Housing Support Worker and Housing Support Worker Correctional Contracts - supporting young people leaving correctional facilities to transition into long term accommodation
Employment and Support Services
Youth Matters - intensive case management program for young people (14-21) who are homeless or at risk of becoming homeless
U&Me Mentoring - complimentary mentoring program for young people (14-21)
Emergency Relief - financial assistance in the form of food vouchers and bus passes for young people (15-24)
Drug Education Support Services - a complimentary drug education program for young people
Youth Place - in partnership with St Patrick's, this program provides medium to long term accommodation and case management for those who are single, a couple with children and/or one parent families
Employment and Training Services
Youth Connections - supporting young people (13-19) who are at risk of disengaging or who have completely disengaged from education
Community Outreach Model of Education and Training - an alternative education program for young people (15-19) who have disengaged from mainstream education and wish to achieve their year 10 equivalency via accessing an alternative learning environment
How does Youth Futures engage with youth?
Youth Futures engages with young people via a variety of methods, including through direct referral processes, being present in schools, through our partnerships with other community and Government organisations and through our general presence within the local community. Underpinning all of Youth Futures programs is our strengths-based and solutions-focused framework, which all case managers use to engage positively with and build on the strengths of young people accessing our programs.
How long has Youth Futures been around and how did Youth Futures come about?
Youth Futures was established in 1988 as Wanneroo Youth Accommodation Services. In 2000 we became known as Joondalup Youth Support Services, and mid-2010 we changed our name once again to Youth Futures WA. The name change occurred in order to better reflect the way the agency has grown, as services are now offered across the entire North West metropolitan region of Perth and no longer just in the Joondalup area. Youth Futures WA was initially developed solely as a crisis hostel due to the lack of accommodation services north of Perth city. Over the years Youth Futures WA has expanded its programs into the three streams of service that operate today, offering a 'wrap-around' approach.
What are the major challenges Youth Futures is facing?
Youth Futures faces similar challenges to many other not-for-profit community-based organisations in the Youth Sector. Primarily, obtaining long term funding and the inability to plan for long-term program delivery, as well as the social, economic and environmental factors which have increased the demand on our services over recent years.
What does the future hold for Youth Futures?
Youth Futures plans to continue to advocate for and support young people in the north metropolitan Perth community. We will continue to build on our community partnerships and offer services which are responsive to the ever changing needs of young people who are homeless and 'at risk' in the community.
What is Youth Futures most important achievement to date?
Among our many formally recognised achievements, Youth Futures identifies our most important achievements as being an ongoing place of support for 'at risk' youth, for providing opportunities for young people to overcome their barriers and engage positively in their community.