Youth Studies Australia
Current issue: vol.23 no.4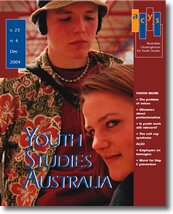 View contents page
How to subscribe
The topic of youth sport and leisure will be visited in the March 2005 issue of YSA.


Lastest issue: January 2005 edition.
This site provides facts and statistics about Australia's youth -- how many there are, what they do and what they're like. We need your feedback on the site to help us make it as useful as possible: http://www.youthfacts.com.au .
Previous news highlights: Invitation to contribute to the Taxonomy of the youth field: see more.


Updates to our calendar of forthcoming events of interest to the youth field are made weekly.